HABANERO
Presents
"IZABELLA"
(Retired)
Champion Habanero Just Cruisin Izabella.
Hip Score. 3:3
elbows. 0:0
Sire:  Alfred of Nettlefield
Titles: Hungarian Junior Champion, Croatian Junior Champion, Hungarian Champion, Hungarian Grand Champion, Croatian Champion, Slovakian Champion, Serbian Champion, Derby Winner '13, VDH-Jugendsieger Leipzig 2013,
German Junior Winner 2013, Croatian Clubwinner '13, 3xHPJ, 4xCAJC & Best Junior, 16xCAC, 5xCACIB, 3xRes.CACIB, 5xBOB
HD "A", AV, VMV
Dam: Becsali-Beszelgetos Donna
Whelped: 09/11/2013
Eye cert & hips info HD A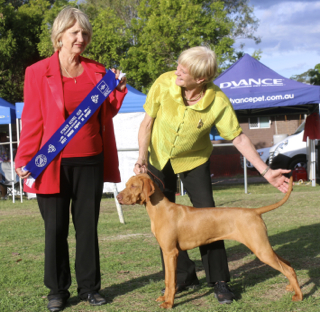 Izabella winning Best of Breed at Durack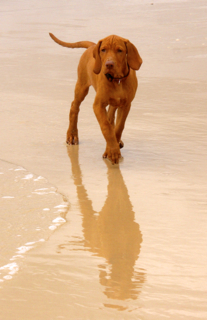 Izabella at 3 months
Achievements: Izabella achieved the title of Australian Champion while still in the "Puppy Class". This lovely young dog has had an exciting beginning in the Show Ring. She qualified for Puppy of the Year winning Minor Puppy In Show at Maryborough. Izabella has had many Group Class wins and excellent Best of Bred wins, beating many older dogs. She also won third place in the Puppy Sweepstakes at the the Royal Brisbane show this year. This young dog has a wonderful future ahead of her.
Pedigree

Parents
GrandParents
GreatGrandParents
SIRE

Alfred of Nettlefield

Titles: Hungarian Junior Champion, Croatian Junior Champion, Hungarian Champion, Hungarian Grand Champion, Croatian Champion, Slovakian Champion, Serbian Champion, Derby Winner '13, VDH-Jugendsieger Leipzig 2013,
German Junior Winner 2013, Croatian Clubwinner '13, 3xHPJ, 4xCAJC & Best Junior, 16xCAC, 5xCACIB, 3xRes.CACIB, 5xBOB
HD "A", AV, VMV

Mohoskoi Moci

Titles: ICH, Multi CH, HJCH, HCH, HSCH, HGrCH, CZCH, SRBCH, ROCH, ROGrCH, ÖCH, SVKCH, SLOCH, CROCH, VDH, 2xBOG I.,3xBOG II., 3xBOG III., 2xBOG IV., 18xBOB, 22xCACIB, 11xRes.CACIB, 47xCAC, 14xRes.CAC,4xHPJ, AV, VAV, VMV,ÖTV, HD=0, ED=0, noncarrier of mutation for long-haired coat

Magasparti Rutinos Doki (Hun)
Matai Kecses (Hun)
 Ch. Arwen Ariadnina Nit (CZE)
Bonel Moravia Centurion (Cze)
Ariadna Z Chejlavskych Lesu (Cze)

DAM

Dam: Becsali-Beszelgetos Donna

 HD "A"

Lebeny-Hansagi Cobel (Hun)
Hung Gr Ch, Int.Ch. Hung.Ch. Hung JR Ch.
Visnyei-Vadasz Satan
Hun Ch. Lebeny-Hansagi Arany (Hun)
Becsali-Beszelgetos Panda (Hun)
Hun Ch. Csokolandy Kalasz (Hun)
Becsali-Beszelgetos Csini (Hun)