Habanero
Presents
Elgin Cariad Miss American Pie
Sire: Dorratz Jaunzeme's Island Song JH
Dam: Elgin Cariad Kissazony CDX RA
Whelped: 06/30/2010
OFA Excellent
(retired to the sofa)
Missy came to us from the Famous Elgin Cariad kennel in the United States.  She was bred by Marion Coffman and Ed Foster, and shown and handled by Ed to gain her championship and then to go on to win her Grand Champioship. At
that time she was the youngest Vizsla girl in the USA to do so.  We are very proud to have here here with us at Habanero.
Missy is retired from the show ring and breeding and remains a much loved family member.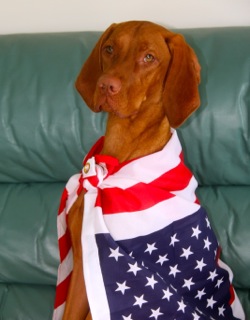 Elgin Cariad Miss American Pie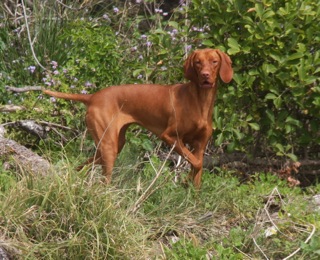 Missy at Coffs Harbour after escaping quarantine September 2011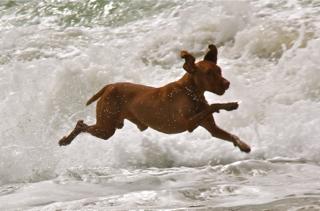 Missy can fly!
Achievements: American Champion, American Grand Champion. Australia Champion
Pedigree

Parents
GrandParents
GreatGrandParents
SIRE Dorratz Jaunzeme's Island Song JH

Ch Koppertone Hail To The Chief

Ch Classic Barry Bakanal
Ch Koppertone Sofisicat'd Jazz
Ch Dorratz Au Privave CD
Ch Classic Rhymes And Reasons UDX RA SH OA OAJ
Ch Dorratz Stella By Starlight CD JH

DAM

 Elgin Cariad Kissazony CDX RA

Ch OtCh Dorratz Miles Of Smiles
VCD1 UDX3 RN MH
Ch Classic Rhymes And Reasons UDX RA SH OA OAJ
Ch Dorratz Stella By Starlight CD JH
Ch Elgin Cariad Fear Nothing
Ch Koppertone's Baratom CDX
Elgin's Sarah Rhiannon